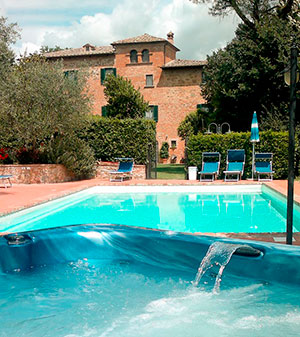 Park and Swimming Pool
Villa Scannagallo
The villa is surrounded by a park with large green areas furnished with garden furniture. The park alternates lawn areas with areas of trees, where you can stop to read a book, garden areas with lots of flowers, many colours and many fragrances for a sensory effect and colours that provide comfort to the soul and the body. At dusk, the park is lit by street lamps and lights placed inside the walls so that one can enjoy it in the evening. The park is decorated with a beautiful swimming pool (7 x 14) set among the flourishing foliage of the olive trees. Equipped with a sun deck furnished with beach umbrellas and sun beds, the gated pool is equipped with a hot water shower and is fenced for the safety of children. Complete pool area and wellness area, with a large Jacuzzi for six people are always available to guests in summer and winter. At dusk the pool is lit by street lamps and lights placed inside the water so that you can use it in the evening.
The Playground
Area
For children we have a play area with swings, slides, table tennis and an enclosed soccer field, which can also be used to play volleyball and basketball. You can rent bicycles for children with helmets for safety.
The
Terrace
The villa has a beautiful stone terrace where you can enjoy a beautiful view of the Tuscan hills: From here, you can see Castiglione Fiorentino, the Castle of Montecchio and Cortona. The terrace underneath tall trees is equipped with tables and chairs for outdoor dining. At sunset, it is illuminated, so you can take advantage of this beautiful space even at night and admire the thousands of lights that illuminate the hills and surrounding villages. Next to the terrace, a dedicated barbecue area and a wood-burning oven for baking delicious pizzas, cakes, breads and unforgettable roasts have been arranged.