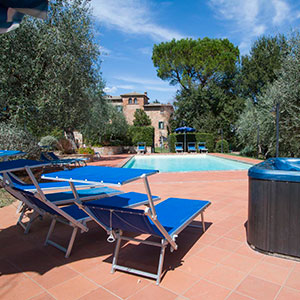 Villa Scannagallo
The Villa
The Villa Scannagallo is located in Val di Chiana, in the middle of Tuscany, surrounded by hills and the countryside. Villa Scannagallo is a typical old brick Sienese farmhouse with the characteristic tower overlooking the old building. It is divided into 6 apartments for 24 people with large common areas and a large living room. You can rent the entire villa for a completely private holiday.
The villa is surrounded by a completely fenced park. It has a gate, which can be closed and has wide green spaces, flower garden areas with garden chairs for relaxing, a beautiful stone terrace under old trees which overlooks the hills of Val di Chiana. An olive grove contains a large swimming pool surrounded by brick walls and stone seats along with a sunbathing area with loungers.
The villa has air conditioning in every room and all indoor and outdoor areas have FREE ADSL WIFI. The villa is ideal for groups of friends or families wishing to spend their holiday together, while enjoying their privacy. The furnishing of the apartments with Tuscan-style furniture is very nice. The Villa Scannagallo is open all year.
Villa Scannagallo
Laundry
The villa on the ground floor has a laundry room, which consists of two rooms with two washing machines and sinks for hand washing, a laundry room with ironing board and an iron apart from a bathroom with shower. These rooms are available to everyone, whether you rent a single apartment or the entire villa.